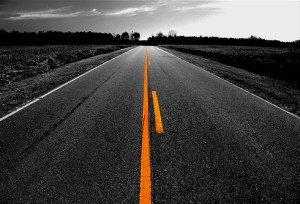 I've been thinking about this topic as it relates to business and startups for a few months now. I've had some good discussions on social media with friends about the subject line, but for whatever reason, I just didn't take the time to write about it. Until yesterday. While riding in the Tour De Park City, I faced the most difficult physical challenge I've ever attempted. 157 miles and 11,000 feet of climbing. However, after eight hours on the bike and 9,000 feet of climbing, I stopped at mile 120.
Notice I used the word stop instead of quit. I think there is a very significant difference between these two words.
I'll first relate it to my bike race and what prompted me to sit down and finally write about the topic. About 14 months ago, I started cycling. You can read about my back injuries and road back to fitness here if you'd like. It's a road I am still on for sure, but yesterday was the peak of my trip so far. I'd trained for a year in preparation for this race and some others coming up. I've put everything I had into getting ready.
Pedaled 9,500 miles in the last 14 months.
377 hours on the bike so far in 2013.
An average of 6 days a week of exercise for nearly a year.
Hundreds of hours spent planning, preparing and doing other training as well.
Sacrificing sleep, family time and other more fun options in the name of my fitness goals.
Anyhow, you get the point.
So when my first competitive race came up, I was fully invested and ready to achieve a personal goal. Race time arrived and I felt pretty good the first few hours. I was riding fast and pushing myself. Things were going as planned. I was cruising along in a group when a rider behind me crossed their front wheel into my rear tire. I was on the right side of a side-by-side row, so I went off the road, lost control a bit, and slammed pretty good into a tree. I've got a solid bruise on my left hip and shoulder from the impact. I didn't go down though, so it could have been worse.
I got back on the bike, because I could. If I didn't, because it hurt, then I'd be quitting. There you go, I used the word quit instead of stop. That's because it would have been quitting, but I'll wrap that together later. Back on the bike I go, sore, but back on the bike.
Around hour five my stomach started to indicate that there was a problem. Leading into Saturday, I had some bad luck with other injuries in the past few months. These injuries caused me to be on some pretty strong antibiotics and other drugs. Little did I know, taking them the week before a big race was actually a bad idea (instead of helpful). One of the medications I was on caused extreme sensitivity to heat. That sensitivity made me get symptoms of heat exhaustion/stroke — one of which is a sick stomach and difficulty eating or drinking. I couldn't keep anything down, not even plain water or real food — let alone the electrolyte drinks and energy chews that I needed for a race like this. Feeling sick is one thing, not being able to refuel your body when it requires fuel is something else entirely different. During the next two hours my body slowly drained itself of all fuel. I began to get shaky, my eyes blurred a bit, and I had literally zero energy. I got off my bike and walked it three times. I have never done that since I started 14 months prior. After making it to the peak of the toughest part of the entire ride (up Mirror Lake Highway to the backside of Mt. Baldy for anyone that knows the area), I sat down at the aid station. I poured water all over my head and body. I tried to eat or drink, no dice. I was shaking a bit so I just sat there for about 20 minutes. I was thinking "should I stop?"

I got back on the bike because I didn't want to quit.
There goes that word choice again. "…should I stop" and "…didn't want to quit". I started a small descent in preparation for a long one. My hands were wobbly, I had no strength, my eyes were blurred a bit and I felt really sick. I decided, at that moment, to stop. I got off the bike, looked at the ground for awhile and then took off my shoes and helmet. I got in touch with a race volunteer and they loaded my bike into a support truck. There were two others in there getting a ride back to the finish as well. It turns out there was a pretty decent group of other riders that did not finish that day either. Some of them probably quit, but I stopped.
Don't get me wrong, I've quit plenty of times in my life. So this isn't a post about how awesome I am and how I never quit. Because I have, I do and I will. It's rare, but still, it happens and I try to own it when I do. This wasn't one of those times. It was unsafe and stupid to continue. I don't think I actually would have had a choice at all had I stayed on the bike. My guess is I would have started the heavy descent, lost control of the bike and then wrecked so badly I would have been too injured to continue. Some might say that at least I wouldn't have quit like I did! And that is where I want to draw the line because they'd be wrong.
Quitting sucks. Stopping is smart.
And this is where I (finally) connect it to business and startups. Many, many entrepreneurs like some of you are facing the same exact decision I did at the top of Mt. Baldy on Saturday. You've spent hours and hours preparing and working. You've spent lots of money (your own and maybe family, friends and investors, to). You've made many sacrifices to get and keep the business going. You've pushed yourself as hard as you can. Despite all of your efforts, sacrifices and hard work, the business just isn't going like you'd hoped. Maybe it's bad luck (wreck), maybe it's bad timing (medication), or maybe it just means that you have to sit down and ask yourself at the aid station if continuing is stupid. You're the entrepreneur, doing the smart thing is what you are supposed to learn how to do. There is no honor in failing randomly. Failure is often (not always) a part of success, but it doesn't mean you fail blindly. It doesn't mean you fly down a road at 50mph when you know you're going to crash.
So really think about it. Have you done everything you can and is your business still not where it should be? Be honest with yourself. If you take the easy answer on the way out, you are quitting. If you take the honest one, and it's time, then you are stopping and stopping is anything but easy. It still hurts. You'll likely second guess whether or not the decision was the correct one. Only you'll really know if the decision was a legit stop vs. quit though.
Just don't convince yourself that one is better than the other. They both suck for different reasons.
The sooner you stop something dangerous, dumb or empty, the sooner you can start something awesome, smart and full of promise. That is your job as an entrepreneur. Work hard until you figure out what it is you will never stop for. Once you find that, quitting won't really be an option anyway.